Over the last few years, Cantina has worked to distill its human-centered design1 process into a deck of usable cards called Experience Strategy Cards. In addition to outlining 20+ research methods, we have curated unique action plans called Recipes to help you achieve your design and innovation goals. Now, our printed Experience Strategy Cards have been reinvented as an interactive mobile app that we are excited to share with you.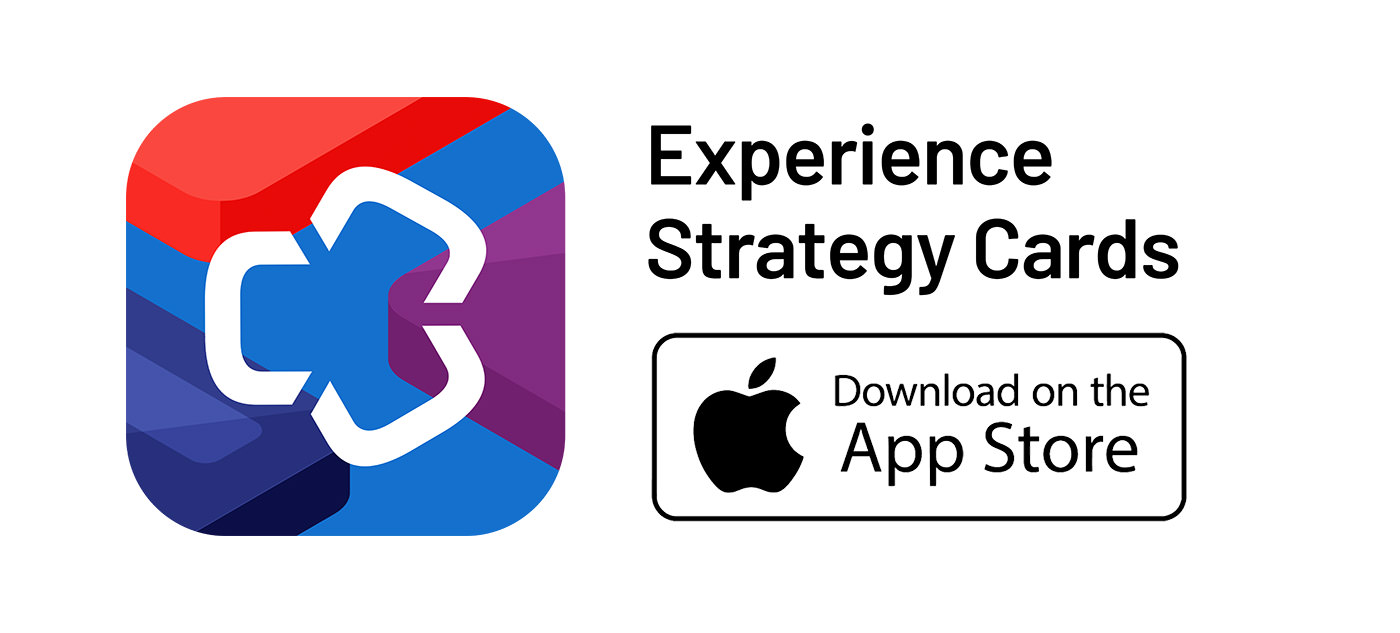 At Cantina, our clients choose to partner with us because of our experience-driven, human-centered design approach. We put front-and-center the perspectives of the person who is experiencing a problem. We ask ourselves whether the solution that has been designed for them is effectively meeting their needs. For our Research & Design Strategy Team, this means starting with a research-backed design-thinking methodology known as Experience Strategy2. We apply Experience Strategy techniques to derive actionable insights that align business vision, customer needs, and technical capabilities to create meaningful products and services. As part of our toolkit, we've created a deck of Experience Strategy Cards that break down design problems and make human-centered design simpler to implement and scale, no matter how big, or small, the challenge. Now, these cards can be found in an interactive and customizable mobile app that you can carry in your pocket.
What's in the Experience Strategy Cards Mobile App?
The Experience Strategy Cards Mobile App contains two types of digital cards: i) Method Cards—your building blocks; and ii) Recipe Cards—your carefully curated plans of action. Through years of practice, we've crafted these cards to help designers with varying levels of experience to successfully implement human-centered design. The cards are incorporated into a mobile app to make them easier for you to access and use no matter where you are.
Answering Key Questions with Method Cards
Method Cards highlight individual activities that you can carry out during a research or design project.
Our new mobile app contains a collection of Methods Cards that we've found useful across a variety of projects. Each Method Card includes an overview, recommended timeframe, and team size, as well as a step-by-step guide for implementing the Method yourself. By applying these Methods, you'll better understand your customers, and clarify ways to align your organization to better serve customers and differentiate your product or service in the market.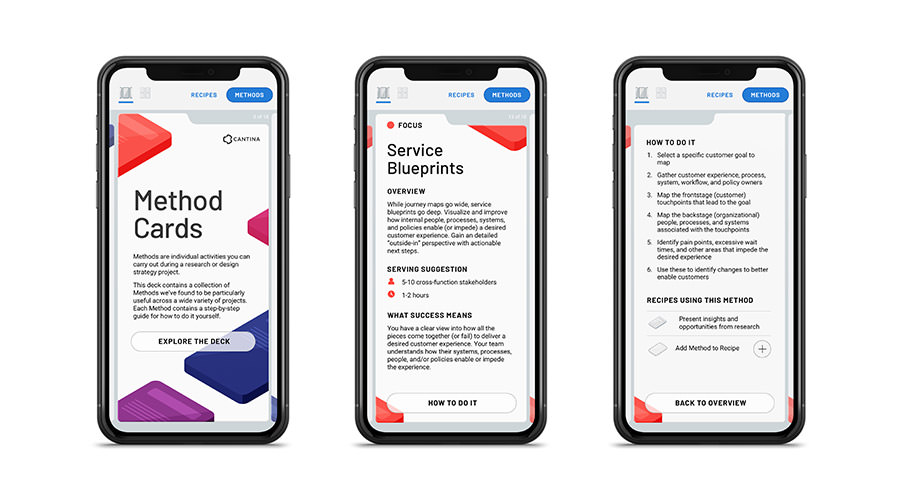 Tackling Design Challenges with Recipe Cards
Recipes are made up of individual Methods, and provide detailed information about how to carry out a plan to meet a defined objective or strategic goal. As with cooking, our Recipe Cards guide you through a sequence of individual activities in order to achieve a desired outcome. The app comes with a handful of tried-and-true sample Recipes, and also allows you to create your own custom Recipes and save them for future projects.
For example, if you are thinking to yourself "I need to bring a team together to kick off a project," one of our digital recipe cards will encourage you to consider conducting Secondary Research along with an Assumption Mapping exercise to help get the team organized and aligned for kickoff. Recipes are designed to help you address common design needs and challenges in a simple and systematic way.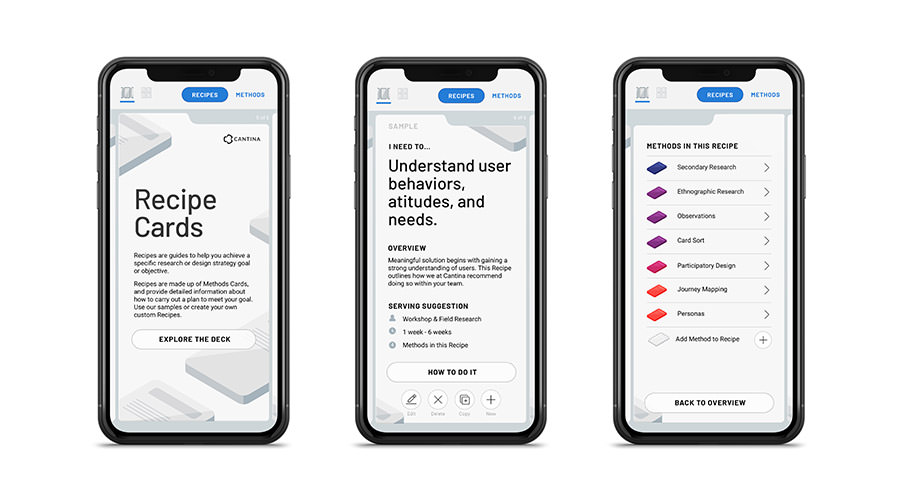 Finding the Right Approach to Your Unique Design Problem
While there are a wide array of research, design, and strategy methods, this app strives to capture a well-rounded compilation of the most essential tools any practitioner should have in their design toolkit. The Method Cards that we've chosen to incorporate into the mobile app are divided into different categories based on the overarching research theme under which they fall. In the app, these categories are color-coded, and our sample Recipes draw upon Methods from multiple categories to form holistic and usable plans of action.
To contextualize all of this and help make it easier to find the right place to dive in, the app breaks down Method Cards into the following categories:
LOOK IN: These methods help you to build an understanding of the organization and industry to serve as a foundation and starting point for your project.
LOOK OUT: These methods help you to learn about your target customers and gain an understanding of their motivations, behaviors, attitudes, and needs in order to design something that is right for them.
EXPAND: These methods help you to go big and broad and explore a multitude of possible solutions and directions.
FOCUS: These methods help you to narrow and refine your focus. Who are you designing for? What role does your brand or organization play in their process? What are the key needs and desires that you can address?
LOOK AHEAD: These methods help you in transitioning from "what is" to "what could be" by setting the design direction and providing your team with the tools they need for success.
With this mobile app, we've reimagined our Experience Strategy Cards to support accessible, sustainable, intelligent, and evidence-driven design. We hope that the app helps you to achieve your design objectives, get your organization aligned, and deliver better products and services to your customers.
If you have questions about our Experience Strategy Cards Mobile App or our printed Experience Strategy Cards, we'd love to hear from you. Get in touch.
Human-centered design (HCD) is a philosophy that empowers an individual or team to design products, services, systems, and experiences that address the core needs of those who experience a problem. What distinguishes human-centered design from other problem-solving approaches is its obsessive focus on understanding the perspective of the person who experiences a problem, their needs, and whether the solution that has been designed for them is truly meeting their needs effectively or not. ↩

Experience strategy involves design research, analysis, and synthesis to formulate insights and uncover opportunities. Before defining a solution, experience strategy ensures that the business vision, customer needs, and technical capabilities are aligned and helps to prioritize a team's attention and resources by keeping them focused on solving the right problems for target customers. ↩