Getting people to think about saving for retirement is a significant challenge. Motivating them to actively engage in their retirement saving plan? That's a whole different issue.
Overview
---
Empower Retirement is the second-largest retirement services provider in the country, with more than 8 million participants on its platform. It provides retirement services to companies of every size – small, midsize and large, including some mega plans.
Its primary mission is found in its name: Empowering people to take their financial destinies into their own hands, or in this case, put it on their wrist.
That's why Empower collaborated with Cantina to accomplish its digital goal. Cantina was tasked with establishing a new website for 401(K) participants, along with creating accompanying iPhone and Apple Watch apps. The goal for the iPhone app was to mirror the features of Empower's website. Users can follow their progress toward their retirement goal, modify contribution rates and allocations, and update their beneficiaries.
Solution
---
For the Apple Watch app, Cantina recognized that the solution should be less immersive than the iOS version, but engaging nonetheless. Using the design tool Sketch, we collaborated with the Empower design team to create a user interface inspired by the iPhone app while adhering to Apple's design standards for the Watch.
After finalizing designs with Empower, we used the prototyping tool Origami to create a high-fidelity prototype. Origami, an industry-leading tool created by Facebook, offers an extensive library of customizable, built-in animations and interactions. Cantina has embraced the application as a way to quickly create engaging and visually enticing apps.
Display a user's progress toward achieving their retirement income goal.
Show current balances and value of their investments.
Provide simple notifications that users can respond to from the Apple Watch.
Make retirement planning playful by displaying a countdown clock that projects how many days remain to the user's retirement date.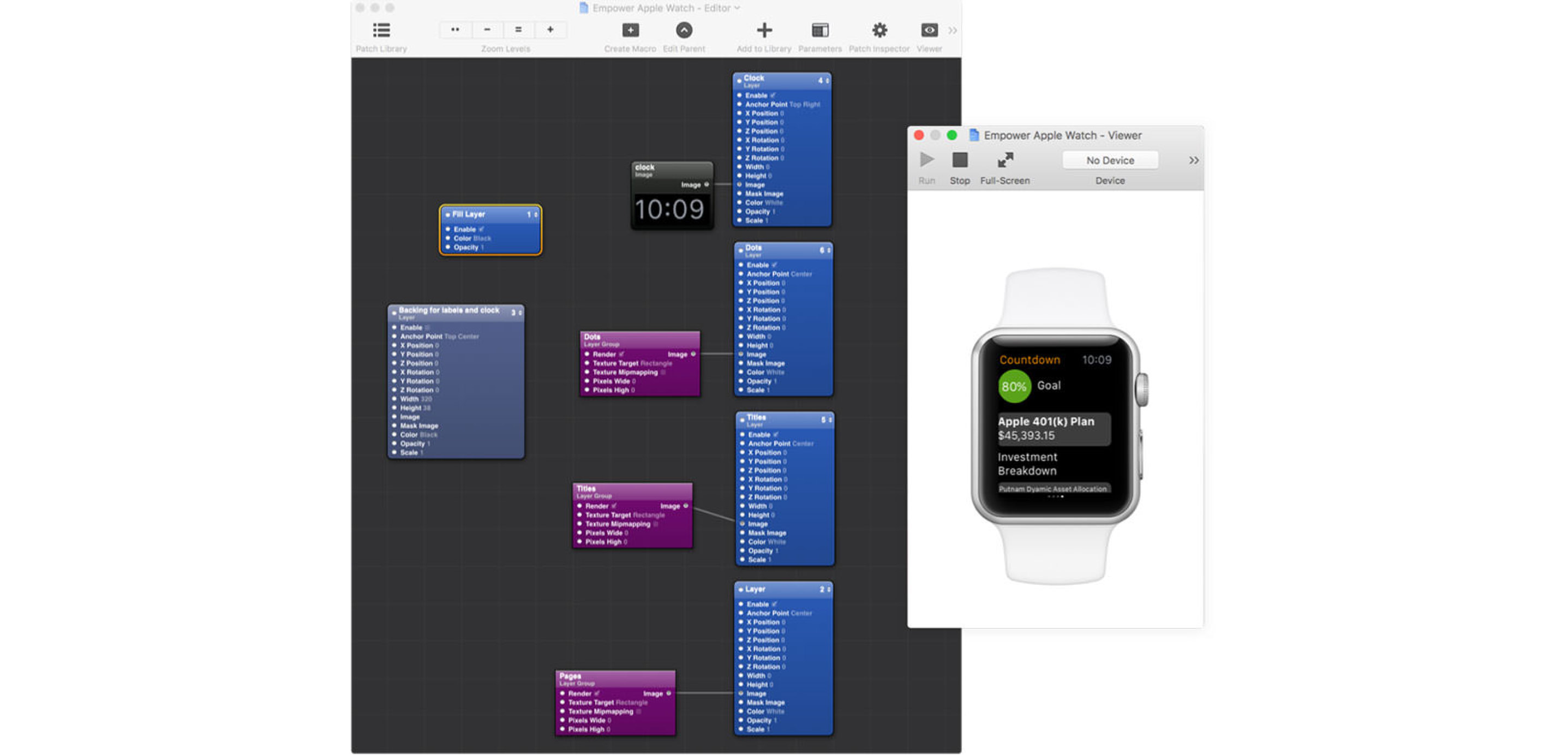 Results
---
For security, the Apple Watch integrates biometric and passcode checks and allows users to decide whether or not the app deploys onto the Watch. Our design includes opt-in controls within the iOS app so the user can to disable the account balances view on the Apple Watch.
Empower Retirement was pleased to receive the completed product from Cantina within their six-week deadline. The app is available in the iOS App Store, where more 8 million participants can download and use it.
Many people saving for retirement are not actively involved in investing their own money, and even more are people who check their accounts only a few times a year. The Empower Apple Watch app changes that model, by providing a holistic user experience from the beginning of saving for retirement, until the day the clock hits zero.