Cantina worked closely with the ByteLight team to take a prototype from the lab bench and turn it into a deployable product.
Overview
---
ByteLight is a start-up with an innovative idea: leverage LED lighting for indoor positioning. The company came to Cantina with a prototype LED lamp and software, and chose Cantina to assist in transforming ByteLight's raw technology into a deployable product.
With Cantina's help, we've taken something that's been around since Edison and turned it into a way of transmitting information.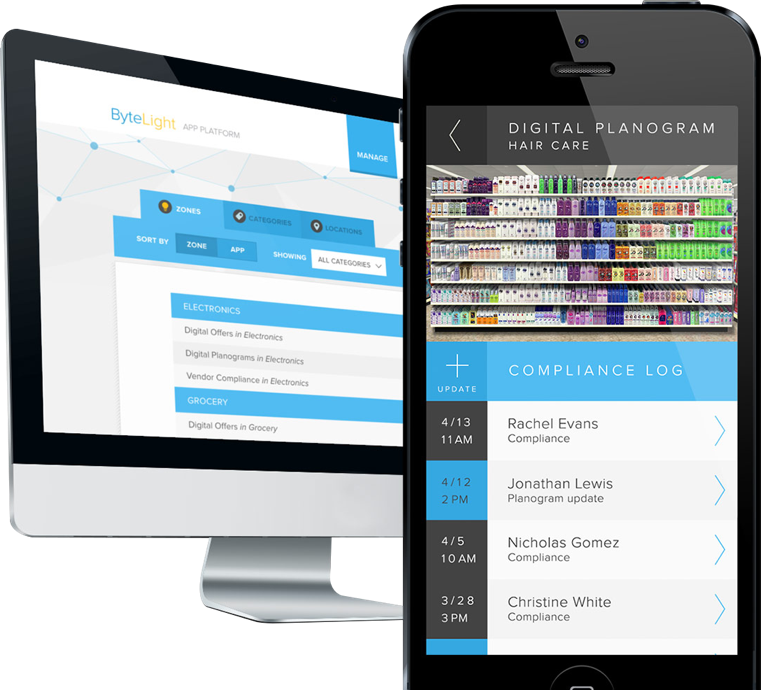 Get from a technology to a product
---
ByteLight's founders created and patented software that transforms LED light sources into indoor positioning systems. "ByteLight-enabled" lights transmit proprietary signals that can be picked up by camera-equipped mobile devices. Once signals are detected, the device then calculates its precise position.
The company was focused on deploying these indoor positioning systems for commercial and enterprise building owners, public safety officials, retail outlets and public spaces such as airports, museums, and convention centers.
ByteLight came to Cantina with raw technology and prototype software, and needed to ramp up development to secure and install a pilot trial. Without a development team in place, the company chose Cantina to be their development partner based on their strategic insights, technical expertise, and agile development methodology.
Step-by-step agile consulting and development
---
From the start, ByteLight emphasized the importance of a flexible and scalable interface to meet various use-cases and customers. We started the project by conducting risk assessments and planning sessions to define success scenarios, select technologies, set timelines and identify risks. After committing to a fully Agile development process, final goals were identified, and one month and one-week plans were set.
Cantina assisted ByteLight with developing a forward-thinking framework, including APIs, web services, and a development environment. Room setups and a management tablet application were built to facilitate room mapping, bulb placement, management, and geo-fencing.
In an extremely short time, Cantina delivered a solution to meet these needs and was not satisfied with only the technology development. Cantina went above and beyond to advise ByteLight on testing, validation and hiring to support the solution. In fact, it even teamed with ByteLight's founders in pitching public demonstrations and pilots with potential customers, partners and investors to ensure it delivered on the project's final goals.
A working product with a public installation
---
Cantina worked closely with the ByteLight team to take a prototype from the lab bench and turn it into a deployable product with hardware, APIs, database, development environment, management application, and data analytics, in less than three months.
ByteLight partnered with the Boston Museum of Science as their first pilot. Inside the building, the technology-empowered real-time navigation and location-based content to museum-goers. Thrilled with our execution, ByteLight founders asked Cantina to help pitch early customers ensuring the best customer service. We happily said yes.
What ByteLight lacked, as all startups do, was time. Cantina took on the time shortage head-on, accelerating progress and development exponentially. In doing so, ByteLight and Cantina transformed an immature software prototype and fledgling technology into a deployable product with the potential to take location-based services from the doors to the floors of retail outlets and public spaces – creating an entirely new ecosystem for businesses.