Responsive (Workspace) Design: The Standing Desk
by Dan Adams

Thursday, September 8th, 2011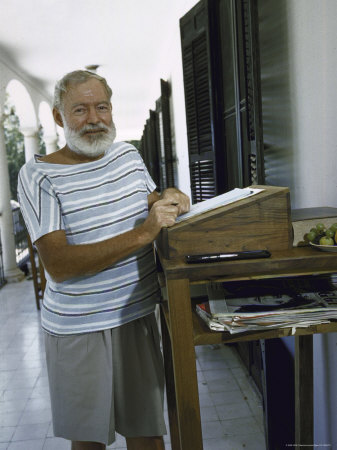 For the past couple months I've been using a standing desk a few times a week. What's a standing desk? Well, it's a desk. Except higher. And you stand at it instead of sitting. Why would you do such a thing? In short, to be healthier and feel better:
You may have seen some of the recent research and blog posts that sitting all day will kill you even if you exercise regularly (sensationalism not intended).
I've found that simply using a standing desk will make you want to move around more: you have a higher energy level in general, take more frequent (short) breaks, your brain is more alert and active, and time seems to pass more slowly. Also, if you've been following primal or paleo nutrition/fitness lifestyle movements, a standing desk encourages you to have a constant, low level of activity (rather than being sedentary) which you can break up with short burst of high-intensity exercise.
Burn more calories / have a higher energy level. If you are on primal or paleo you aren't counting calories anyway. But regardless standing will raise your energy consumption throughout the day.
My experience so far has been quite positive. The first day my body definitely noticed I was trying to make it stand the whole day. At the end of the day I felt as if I'd gone on an all-day walk (my feet and legs were a bit tired) which, being a Bostonian, I'm used to  (a 7 mile walk on a Sunday afternoon through the city is a great thing). It's not a bad feeling, actually: at the end of the day you feel like you've actually done something. After the first day or two I wasn't sore or tired so much as feeling like I did something physical. This really cuts back on the "body frustration" you can get sitting for days on end (and I say this as someone who could sit in a cave and play RPGs for days on end).
Here's some tips from my own experience:
Posture is critical. Don't slouch or lean to the side. Stand tall with your back straight. I noticed one day I was leaning to one side because my lower back started complaining profusely. If you stand straight up you will likely feel great but if your posture is bad your body will notify you loudly.
Ergonomics. Make sure your setup is at a good height. A kitchen counter is probably too low. I've got an architect-style design table (or rather my wife does) which is already fairly high. However, I found I was bending neck and wrists too much (again, my body told me to make the change) so I put a large box on it to raise my laptop even further and now it's perfect. Perhaps I'll get something a little nicer than a box but it works for now.
Move around / vary your environment. One of the benefits of a standing desk is, at least with a laptop, all you need is a surface of the right height which affords you many possibilites for a workspace. My favorite is working next to a (open, if possible) window or outside entirely: this way I get some sunlight (good for getting some Vitamin D and fighting the winter blues) and can stare into the distance and relax my eyes while thinking to reduce eye fatigue.
Use it for some exercise. Now that you are standing up and more active anyway, why not get even more out of it? Try tightening your core muscles for 30 seconds or so. Rather than locking your knees (which can block circulation: apparently one of the reasons your best man fainted at your wedding), bend your legs slightly and hold it. Try standing on the balls of your feet: this will strengthen your feet gently while giving your legs a different workout.
Overall, I've really enjoyed using a standing desk and don't even notice I'm doing it. If anything, it's made going back to sitting all day difficult and I'd consider doing this every day if I could. Even in bare feet or socks my feet don't get sore and not only is it good for me but I feel better than when I sit. I'd recommend you give it a shot for a few days and see if you take to it.
Have you tried or considered trying a standing desk? What was your experience? Any reservations or recommendations?
Some helpful links:
[Read more on Dan's blog at http://mrdanadams.com]
---